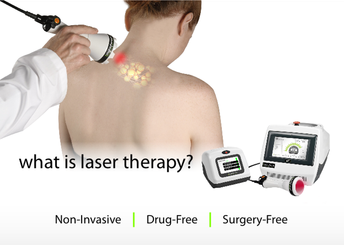 Deep Tissue Laser Therapy
- stop the pain -
Mobility is yours, take it back.
Deep Tissue Laser Therapy is a scientifically proven way to reduce pain and inflammation.
Pain-Free Relief. Treatments are fast, safe, painless and most patients experience results after only a few sessions.
Allows for deeper tissue penetration, resulting in fast, efficient and consistent results.


Drug Free


Surgery Free
LASER THERAPY RELIEVES PAIN AND INFLAMMATION ASSOCIATED WITH

:
✔

Sprains & Strains

✔

Low Back Pain

✔

Plantar Fasciitis

✔ Tennis Elbow


✔ Disc Issues


✔ Soft Tissue Injuries


✔ Shoulder & Knee


✔ Carpal Tunnel


✔ Neck Pain


✔ And Much More

Laser therapy generates a photochemical response in damaged tissue by a process called photo biomodulation. This process stimulates healing on a cellular level by enabling cells to more rapidly produce energy (ATP).