Peripheral Neuropathy
Peripheral Neuropathy
Written By Caputo Chiropractic Center on March 17, 2020
---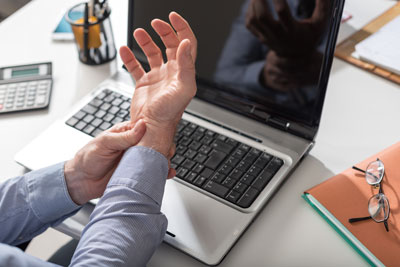 Also known as peripheral neuritis, peripheral neuropathy is a neurological conditional characterized by sensations of numbness, tingling, or pain caused by damage to sensitive nerves. In many patients, these sensations are felt in the extremities – particularly the hands and feet.
Peripheral neuropathy is a common condition in the United States and is known to strongly correlate with those diagnosed with Type 1 or Type 2 diabetes. Fortunately, routine chiropractic care offers an all-natural alternative for treating peripheral neuropathy and can significantly reduce the discomfort of this condition in a relatively short period of time.
How Peripheral Neuropathy Impacts the Body
Within the neurological system, messages are carried from the brain to the various organ systems by way of highly-developed nerves. Damage or breakdown of these nerves can lead to miscommunication from the brain, resulting in feelings of pain and numbness. Specifically, peripheral nerves stem from the spinal column and can also be impacted by autoimmune conditions, nutritional imbalance, or hereditary illnesses.
How Chiropractic Care Can Help Peripheral Neuropathy
Many patients come to Caputo Chiropractic Center seeking a natural alternative to treatment for peripheral neuropathy. The trained and board-certified staff can offer any of the following treatments:
Electroanalgesia machine: Designed to essentially "confuse" the flow of information from the brain to the nerve endings, this treatment option introduces electric current to calm and "reset" sensitive muscles and tissue.
Balance assessment: A helpful tool used to determine a patient's fall-risk, general balance, and posture, this assessment is considered especially useful in treating underlying factors contributing to peripheral neuropathy.
Chiropractic adjustments: Traditional chiropractic healing arts, including spinal manipulation, are historically helpful in reducing inflammation and increasing wellness for those dealing with conditions correlated to nerve damage.
Peripheral Neuropathy Treatment with Caputo Chiropractic Center
Given the limitations imposed by peripheral neuropathy, holistic treatment by our Suwanee chiropractic team can offer lasting relief for this chronic condition.
To get started with treatment for peripheral neuropathy, please give us a call to schedule an appointment today at 770-962-0559.

Posted In: Peripheral Neuropathy