FAQs About Neck and Back Pain from a Car Accident
FAQs About Neck and Back Pain from a Car Accident
Written By Caputo Chiropractic Center on September 6, 2021
---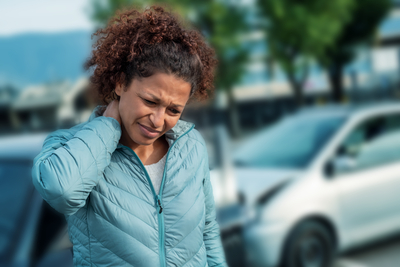 Some of the most common car accident injuries involve the neck and back. Sometimes, accident victims are caught off guard by neck pain and back pain, because the pain typically doesn't develop until 24 hours or more after the collision. These slow-to-develop injuries are one of the reasons that it is important to see Dr. Thomas Caputo, D.C. after an accident, even if you think you're fine. Dr. Caputo may find that you have an injury that hasn't started causing symptoms yet, so you get ahead of the pain and discomfort. It's common to have questions about neck pain and back pain after a car accident. Here are the answers to some of the questions heard most often by chiropractors.
Why are neck pain and back pain so common after car accidents?
Neck and back injuries are common after car accidents because of the force of the collision. Even slow-speed collisions can cause the head and neck to whip back and forth with great force. This motion can cause muscle tears, spinal misalignments, and damage to vertebrae or spinal discs. These kinds of injuries can cause acute neck and back pain that is severe and interferes with your ability to work and sleep, or it can cause chronic soreness and stiffness that steadily gets worse over time. Many people who have long-term impacts from car accident injuries have these kinds of neck and back injuries.
How can Dr. Caputo help?
Dr. Caputo offers powerfully effective treatment for neck pain and back pain without invasive therapies or medications. At the core of chiropractic treatment is spinal adjustments, which restore the spine to a healthy alignment, relieving pressure on the nerves and allowing healing nutrients to flow to the site of injuries. Chiropractic care often incorporates other modalities alongside adjustments for the best possible outcomes for patients. Dr. Caputo in Suwanee offers laser therapy as an adjunctive service to chiropractic treatment.
When should I see Dr. Caputo for car accident injuries?
The sooner you see Dr. Caputo for care, the better. It is a good idea to get examined right after an auto accident, so that you can determine if you have any injuries that aren't causing symptoms yet. Even if you don't go right away, you should make an appointment as soon as you experience neck and back pain, so you can get care before your injury gets worse.
Don't Suffer in Silence with Neck Pain or Back Pain
If you need care for car accident injuries in Suwanee, call Caputo Chiropractic Center. Dr. Caputo brings more than 30 years of experience to the table and specializes in treating auto accident injuries. Make an appointment by dialing (770) 962-0559 or visiting our website.

Posted In: Chiropractic Auto Injury Treatment Neck Pain Treatment Low Back Pain Treatment Whiplash Treatment