Chiropractic Care for Disc Pain - The Non-Invasive Solution
Chiropractic Care for Disc Pain - The Non-Invasive Solution
Written By Caputo Chiropractic Center on January 21, 2021
---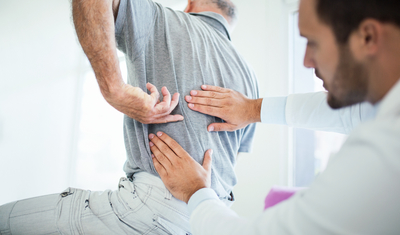 If you've sustained a disc injury, you know how debilitating the pain can be.
Disc pain can make it hard to move, let alone do household chores or engage in some of your favorite activities like hiking and sports.
You may have heard that the only solution for chronic disc pain is surgery. Thankfully, there's a non-invasive therapy you can try first: Chiropractic care in Suwanee.
Back Pain Caused by Disc Injury Doesn't Need to Be Chronic
Dr. Thomas Caputo sustained an injury when he was younger and was told his only hope for relief was surgery. Fortunately, he received chiropractic care and never needed surgical treatment.
Your Suwanee chiropractor can help you find relief, too, by addressing the root cause of your pain.
Disc pain is caused by a herniated or slipped disc. The disc is a gel-like material enclosed in a fibrous casing. They sit in between the vertebrae and act as shock absorbers. When the disc slips out of place or ruptures due to trauma, the vertebrae rub together causing pain. Additionally, the disc can compress nerve tissue, contributing to even more pain.
Chiropractic Therapies to Reduce Disc Pain
Thankfully, your chiropractor can treat a disc injury. One of the most effective ways to address disc pain is with spinal decompression therapy. You lay on a traction table with a harness around your hips. The mechanized table gently separates, moving your spine and relieving the pressure.
Chiropractic adjustments can also relieve pain as a misaligned spine can lead to further nerve compression, as well as muscle tension and pain.
Your Suwanee chiropractor can also recommend various lifestyle adjustments, as well as stretches and strengthening exercises that can improve pain levels, too.
Caputo Chiropractic Center – Committed to Your Care
Dr. Caputo wasn't satisfied with simply becoming a general chiropractor. He wanted to enhance his knowledge and abilities with extra training and multiple certifications to provide his patients with high-quality care.
When you come to see Dr. Caputo, you'll receive a disc injury treatment plan that's unique to your needs, not a one-size-fits-all type of treatment plan. Based on your injury, diagnosis, and current state of your health, Dr. Caputo will create a plan that will help relieve your pain and improve your overall health.
Are you suffering from debilitating back or neck pain? You don't need to suffer in silence. Call 770-962-0559 to schedule a consultation and see how chiropractic care can help relieve your pain.

Posted In: Chiropractic Low Back Pain Treatment